How Does Buona Terra Choose Their Pastas?
---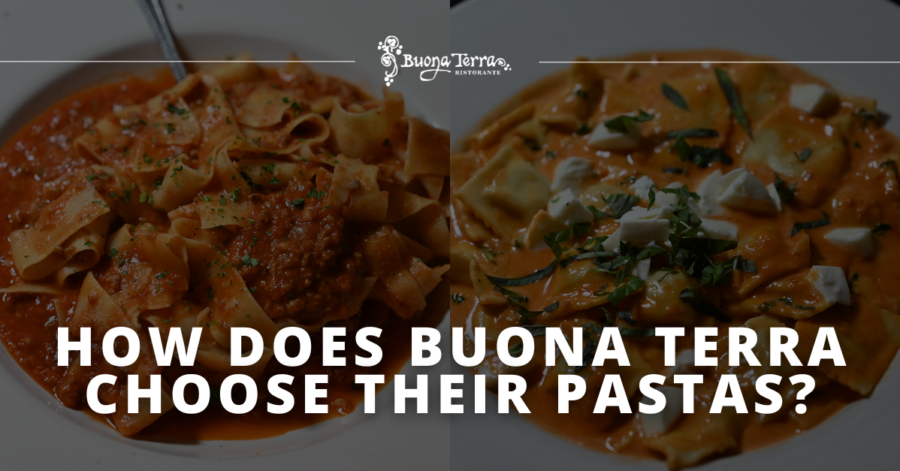 Italians are known for their exquisite cuisine, especially since pasta is such an integral part of Italian cooking. How does a restaurant ensure that the pastas they serve are authentically and delightfully Italian? Buona Terra in Chicago has been serving delicious, quality Italian food like no other – so what process do they go through to select the perfect pasta for their menu?
In this blog post, we'll be exploring how Buona Terra makes sure each dish is truly worthy of its place on the menu. We're here to answer all your questions about the variety and selection of Buona Terra's robust-flavored pastas! Let's take a closer look at why this Chicago restaurant chooses only the best ingredients to make every meal memorable.
The Story Behind Buona Terra's Pastas
Our story begins in the 90's when Chepe was  working at Tuscany On Taylor as their head chef. He came up with a recipe that he called Rigatoni ala Chepe. 
There was an accidental over shipment of walnuts and Chepe came up with the idea of a sundried tomato pesto-cream sauce with roasted walnuts and goat cheese sprinkled on top. Little did he know that this recipe would be the start of many years of making the same recipe but at his own restaurant, Buona Terra. After 21 years since BT's opening, the pasta dish would become a beloved menu item, now known as Rigatoni Buona Terra. It remains Chepe's signature pasta dish.
Pasta, Pasta, and MORE Pasta!
Pasta is a staple food in many households, but do you know the differences between the various types?
Long pastas, such as linguine, capellini, and spaghetti, are perfect for holding onto sauces and can be served with lighter sauces or hearty Bolognese style sauces as well. If long pastas are your thing, you're sure to fall for our linguine alla vongole, a delicious linguine pasta with a choice of red or white wine clam sauce, or maybe our spaghetti al gamberetti, a breathtaking spaghetti pasta with rock shrimp, spinach, fresh tomatoes tossed in olive oil and sautéed garlic!
Shaped pastas, like rigatoni and penne, are more versatile and can handle thicker, creamier sauces. And coincidentally, one of our crowd favorites is the rigatoni buona terra (aka, rigatoni alla chepe), a rigatoni pasta tossed in a sun dried tomato cream sauce topped with oven roasted walnuts and goat cheese.
Filled pastas, like ravioli and agnolotti, are stuffed with various fillings, such as cheese or meat, and are a heartier option. Want to try a Buona Terra classic? How about one of our pasta pioneers, our ravioli con vitello, a ravioli pasta stuffed with veal in a brandy cream sauce and topped with fresh mozzarella. This particular pasta has actually been on our menu for almost 20 years and our customers love it so much that they'll have one for dinner and will have one to go!
Fresh Ingredients Every Day
At Buona Terra, selecting the perfect ingredients for our pasta dishes is crucial. Fresh ingredients always make a difference in the quality and taste of our dishes. We always make sure to choose our ingredients carefully, from the vegetables to the meats we use.
When examining ingredients, we look for qualities such as freshness, flavor, and seasonality. We want our customers to taste the difference in every bite they take. We take pride in using the freshest ingredients to create unique, delicious dishes that keep our customers coming back for more.
Researching Traditional Italian Dishes
At Buona Terra, creating the perfect Italian cuisine is more than just a job, it's a passion. To ensure that every dish on the menu reflects the true essence of traditional Italian flavors, the restaurant invests a considerable amount of time and effort in researching recipes.
Both Chepe and Eileen take their time to pore over centuries-old cookbooks to even traveling to Italy and find new and delicious recipes. Buona Terra leaves no stone unturned in their mission to capture the richness of Italian cuisine. By combining traditional techniques with modern twists, Buona Terra is able to create dishes that are both authentic and innovative, leaving a lasting impression on the palates of every customer.
Variety is the Spice of Life
At Buona Terra, we firmly believe that variety is the spice of life, especially when it comes to our menu. That's why we offer a wide range of different pastas, each with its own unique flavor. 
Whether you're in the mood for something simple and traditional like a cacio e pepe, or something a little more complex like our spaghetti ai gamberetti, we've got you covered. We understand that everyone has different tastes and preferences, which is why we strive to provide as many options as possible. So whether you're dining with family, friends or colleagues, you can always be sure that you'll find something to suit everyone's palate. Visit us today and discover the delicious variety that Buona Terra has to offer!
Visit Buona Terra and Try Our Signature Pastas
Buona Terra is an Italian restaurant in Chicago that takes the utmost care when choosing their pastas for the menu. By utilizing a variety of long, short, filled, and shaped pastas customers can enjoy traditional flavors in unique ways. Only high-quality ingredients are chosen to create interesting flavor combinations and appeal to all types of palates. 
Allowing for a diversity of dishes, Buona Terra searches for time-honored recipes from Italy to ensure that any pasta dish one orders is going to be cooked with care and attention to detail. Variety may indeed be the spice of life and at Buona Terra, customers can experience the flavors of Italy with every bite. So come experience the wonderful world of Italy through food by visiting Buona Terra – you won't regret it!