Traditional Italian Cuisine And How It's Inspired by Chicago
---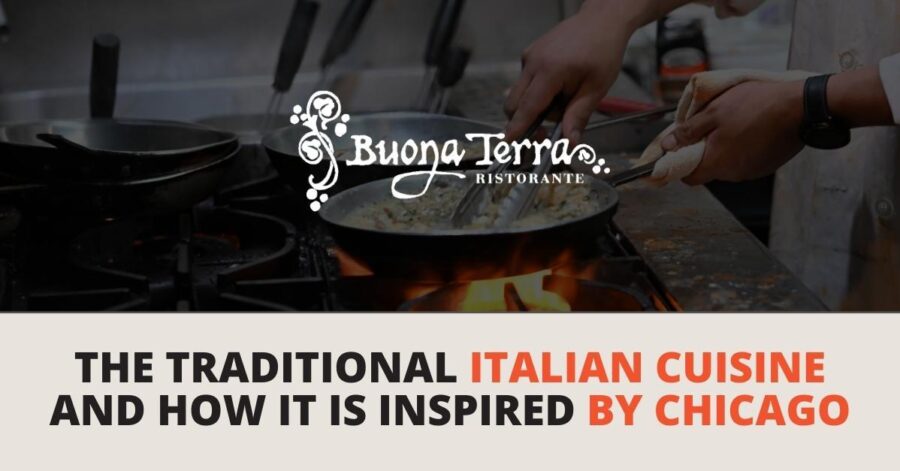 When you think of Italian cuisine and all of its warm aromas of fragrant spices and savory flavors, you might think of its beginnings in Rome. And it makes sense, as this world's beloved food has endured for thousands of years and expanded to every part of this world (nearly)! However, if you're looking for an amazing example of truly inspired Italian fare with a modern twist – look no further than Chicago's very own Buona Terra Ristorante. Not only is it one the highest rated Chicago Italian restaurants (a whopping 4.7 stars as of now), but it's also somewhat of a hidden gem among locals who come in regularly to greet their friends and enjoy the ever-changing menu.
Since 2002, we have been the go-to spot in the neighborhood for an authentic Italian dining experience . Our menu boasts a wide variety of options, from handcrafted pastas to exquisite wine and fresh meats. Discover how Chicago has inspired us to create a memorable Italian dining experience.
Overview of Buona Terra Ristorante in Chicago
Buona Terra Ristorante in Chicago is a cozy and intimate spot by all accounts. Its menu is carefully crafted by the head chef and owner to showcase, not only a fresh approach to cooking in a world saturated with out of the box restaurants, but also a flavorful approach to creating a truly delicious meal.. 
Our homemade pasta is a must-try.  Our Rigatoni Buona Terra and the Ravioli con Vitello merge taste and texture without sacrificing the flavor of the pasta itself. But aside from these popular plates we also have other delicious options like seafood, meats, and vegetarian dishes that are sure to satisfy any customer that walks through our doors. Love carpaccio? How about a beet carpaccio? There's something for everyone at Buona Terra. 
Overall, this popular spot known for its locals and visitors alike is an excellent choice for those seeking a taste of Italy in the heart of Chicago.
The Traditional Italian Dishes that Set Apart the Menu at Buona Terra
Our approach to crafting a complete menu is something we strive to set as a distinguishing factor between us and everyone else. We like to consider our menu traditional but also creative. At Buona Terra, you'll find an array of classic Italian cuisine that will take your taste buds straight to the soul of Italian food with a touch of Chicago's rich Italian history.
As a first course from our antipasti section, you could start with something as simple as our Bruschetta Pomodoro. Lush and fresh tomatoes marinated with fresh herbs and served on garlic toast made in our very own ovens. You could eat it then or leave some to spoon our rich sauces.
If you're looking for something more complex, our Arancini might just hit the spot. It's fried saffron infused risotto balls stuffed with fresh mozzarella and served with creamy tomato sauce. Arancini comes from the Italian word for orange as Arancini, traditionally prepared, has an orange color and round shape. But the flavor is anything but fruity. It's rich, crispy, crunchy, soft in the middle, creamy all the way through and overall just delightful to the senses. You'll smell it before you see it. You'll see it before you taste it. You'll smile with glee before you devour it. Highly recommended!
Italian cuisine in Chicago and anywhere else in the world is more than just pasta. We all love pasta. But true Italian cuisine is embedded in the land and culture of Italy. And that means seafood as well. Our fish of the day is prepared fresh and varies regularly but you'll always get true Italian flavors whatever the catch of the day is. If you're determined to eat pasta, try our Linguine alla Vongole which comes with a lovely and delectable clam sauce. 
Many great Italian meals include a meat course and that's another place where Buona Terra shines. Whether you opt for our Black Angus Strip Steak or our Pollo Affumicato which comes baked with a smoky bacon tomato sauce and mozzarella, you'll leave satisfied. And if you happen to be a vegetarian, try our Melanzana alla Emilia Romagna which is an almond breaded eggplant topped with caramelized onions and goat cheese served with a tomato and basil sauce. Does it sound amazing? Wait until you taste it!
At Buona Terra, each dish is a tribute to the timeless flavors of Italy, and a celebration of the culinary arts. Buon appetito!
How Chicago has InfluEnced Buona Terra's Approach to Italian Cuisine
If you asked the average person what they love most about Italian cuisine, they'll likely answer pizza and pasta. Although those dishes certainly have their place in Italian cuisine, there is, of course, so much more to explore. Traditional Italian cooking is bursting with history. Every plate dates back to a region, a way of life or a grandmother who swears she invented this or that.  And lucky for us, in Chicago, we can experience authentic Italian history through authentic Italian cuisine.
Our desire to own something started with the idea of fine dining. Although we had our own unique visions, we shared a passion for fine dining. We realized that it was often reserved for special occasions or rare visits, but we wanted to create an environment where couples and families could visit us every week instead of once a year. We came up with the idea of making Italian food our comfort food. It is the kind of food that can bring families together. You can enjoy it on a regular day or even on a special occasion. After all, who doesn't love Italian food?
It just so happens that our head chef, José "Chepe" García, began his culinary journey cooking French cuisine in the early stages of his career. You'll see hints and strokes of his French training in the texture, flavor and artistry behind his sauces. He successfully adapted that style of cooking to Italian cuisine, refining his craft to the point where he excels at it. His expertise in cooking and seasoning has made him popular, and he has impacted a lot of individuals through his cooking achievements. As a result, he has had a successful career as a chef but, also, an even larger impact as the man behind the bar who'll come out and have a heart to heart with a local or tourist in town.
The City of Chicago has played a vital role in supporting our dream of opening a fine dining restaurant in a quaint neighborhood. Our goal is to be a go-to destination for special occasions or for those who simply crave a delectable plate of pasta paired with a fine wine. But our passion is finding friends and family in the people we have the privilege to serve.
Looking for the best Italian food in Chicago?
Buona Terra Ristorante has made quite a name for itself in Chicago with its unique Italian dishes. From the traditional to the modern, we offer a wide range of flavors that really capture the essence of both Italian and Chicago cuisine. And serving you is an opportunity to be delighted.
Combining classical elements of Italian cooking with the diverse flavors found throughout Chicago, Buona Terra has raised the bar for fine dining experience in the Windy City. Our commitment to quality and hospitality make for an unforgettable experience with every visit. When you're looking for an exquisite culinary journey in Chicago, make your journey to Buona Terra Ristorante!