The Absolute Best Chicago Restaurants
---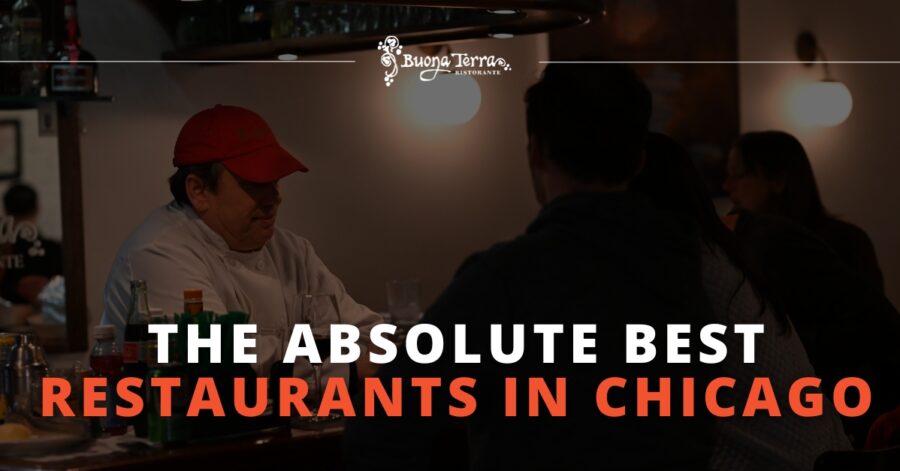 Chicago, the chaotic metropolis famous for its architecture, arts, and sports, has a hidden world that allows its people to slow down and enjoy delicious meals and enjoy unmatched dining experiences, its' culinary world. Containing a wide variety of cultures, this city has become a heaven for food enthusiasts. From world-renown deep-dish pizzas to innovative and modern cuisines, Chicago is home to extraordinary restaurants all around the city. In this blog, you'll take a gastronomic journey through the top ten restaurants that have captured the hearts and taste buds of locals and visitors alike. Including the foodie-favorite, Buona Terra Ristorante.
Buona Terra Ristorante: Authentic Italian Excellence 
Placed at number one, Buona Terra Ristorante is an Authentic Italian gem right in the heart of Chicago. Under the direction of its talented and dedicated chefs, It celebrates the culinary heritage of Italy with the uttermost accuracy. The restaurant offers an unparalleled dining experience that combines tradition with a twist of innovation. It is also a true haven for wine connoisseurs, Buona Terra offers an impressive selection of Italian labels. From mouthwatering antipasti to delicious pasta dishes and savory wines, Buona Terra's menu is an adventurous journey through Italy's rich flavors.
Alinea: A Gastronomic Symphony
Coming in at number two of Chicago's dining scene stands Alinea, the masterpiece of Chef Grant Achatz. With three Michelin stars to its name, this culinary temple showcases artistry, creativity, and innovation on every plate. Alinea offers a multi-sensory dining experience, where each dish is thoughtfully designed to evoke surprise and wonder. From edible helium balloons to dishes prepared with liquid nitrogen, every bite at Alinea is a revelation.
Girl & the Goat: A Broad Feast
Led by Top Chef winner Stephanie Izard, Girl & the Goat is a lively and vibrant restaurant that captures the essence of Chicago's culinary culture. Their inventive small plates and communal dining concept encourage exploration and sharing among their guests. Bold flavors and unexpected combinations shine through dishes, like their wood-fired octopus or their goat empanadas. It's truly an unforgettable experience in a rustic, yet chic, ambiance.
Spiaggia: Modern Italy by the Lake
Spiaggia, located along Chicago's Magnificent Mile, is an Italian eatery designed by Chef Tony Mantuano. The restaurant's elegant ambiance complemented by the stunning lake view sets the stage for an unforgettable dining experience. Spiaggia's menu pays homage to the diverse regional cuisines of Italy in a modern and innovative way, its menu contains items like exquisite house-made pasta, Mediterranean seafood, and tasty desserts. 
Smoque BBQ: For the Carnivore's Delight
Chicago's residents take their barbecue seriously, and Smoque BBQ understands that, so it has made itself an essential destination for meat lovers. Located in the Irving Park neighborhood, Smoque serves only authentic, slow-smoked meats that are deliciously juicy and irresistibly flavorful. Their signature brisket, ribs, pulled pork, and hot links are a mouthwatering satisfaction, accompanied by a variety of savory house-made sauces.
Oriole: An Intimate Culinary Affair
Oriole, a Michelin-starred restaurant located in the West Loop of Chicago, serves an intimate and refined dining experience. Chef Noah Sandoval's constantly evolving tasting menu features seasonal ingredients prepared with meticulous technique. The restaurant's warm and welcoming atmosphere sets the stage for a memorable culinary adventure.
Sepia: A Balanced Blend of Modern and Vintage
Set within a restored 1890s print shop, Sepia combines old-world charm with modern elegance. Chef Andrew Zimmerman's contemporary American cuisine features locally sourced ingredients, preparing dishes that are both comforting and sophisticated. Sepia's outstanding wine selection further enhances the dining experience by creating the perfect pairings, making it a favorite among wine enthusiasts looking for a complete dining experience.
Schwa: Unconventional and Eclectic
For adventurous food lovers, Schwa offers a unique and unconventional dining adventure. This Michelin-starred restaurant in Wicker Park goes against traditional culinary norms, presenting a tasting menu that surprises and delights guests. With a cozy and modest ambiance, Schwa ensures an intimate and memorable experience for each of its guests.
Monteverde: Pasta Perfection
Steered by Chef Sarah Grueneberg, Monteverde showcases the art of pasta-making in its finest form. Inspired by Italy's diverse and rich gastronomy, Monteverde's menu is filled with a  flavorsome assortment of pasta dishes, which guests can pair with complementary sauces and garnishes. Monteverde has a warm and welcoming atmosphere that offers a homelike Italian experience.
Grace: Elegance in It's Simplest Form
Grace, a three-Michelin-starred restaurant in the West Loop of Chicago, oozes elegance and simplicity at the same time. Chef Curtis Duffy's exquisite tasting menus are a perfect harmony of flavors, textures, and artistry. The restaurant's fancy ambiance and impeccable service elevate the entire dining experience, making Grace a culinary masterpiece in the heart of Chicago.
Dine Exquisitely at One of The Best Chicago Restaurants
Chicago's vibrant food scene nests an exceptional catalog of restaurants that cater to every taste. From the traditional and comforting flavors of Buona Terra Ristorante to the elegant experience at Grace, each restaurant on this list offers a unique dining experience. Whether you're a local or a visitor, exploring these ten restaurants will undoubtedly leave you with unforgettable memories and a deeper appreciation for Chicago's hidden gastronomic gems.