Buona Terra Chicago Has a New Location
---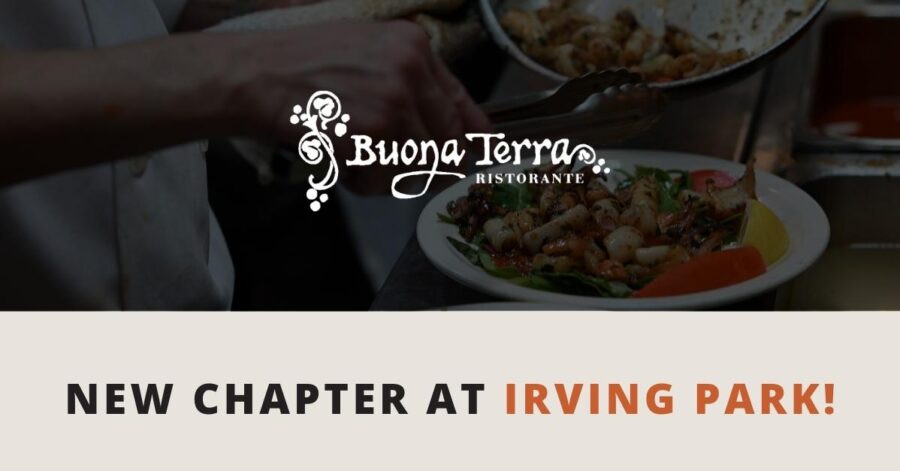 Buona Terra's New Chapter in Irving Park
Way back in 2002, with a vision and a young family, Chepe and Eileen opened what would become a neighborhood icon in Logan Square. The vision of serving great pastas, seafood and steaks, along with an affordable wine list was just what the neighborhood needed. But, ever since the opening of Buona Terra in 2002, they envisioned an opportunity to offer pizzas. After years of anticipation, their dream became a reality in 2017 when Hearth And Crust opened its doors in Irving Park. Not only did this eatery serve all the fan favorites from Buona Terra, but also wood-fired pizzas that left mouths watering and taste buds delighted!
After two decades of incredible experiences, devoted customers, and delectable dishes served up with love, Eileen and Chepe decided it was time to make some changes. In March of 2023, Buona Terra closed its doors in Logan Square.
Goodbye Logan Square and hello Irving Park
The new Buona Terra location took over the Hearth And Crust location and consolidated both well-known eateries (Buona Terra and Hearth & Crust) offering their most beloved dishes, from Rigatoni Buona Terra and the Pork Chop Gorgonzola to their acclaimed thin-crust pizzas. So if you're looking for amazing Italian cuisine in the heart of Irving Park, look no further than Buona Terra. With a newly refreshed look and flavorful menu, this cozy spot will quickly become your favorite go-to place for incredible pizza, pasta, delicious wine and other Italian favorites. Come on in for a taste of traditional Italian cuisine with a modern edge!
The Story Behind Buona Terra
Much like a fairytale, Buona Terra was born from an unwavering belief that dreams can come true. This cozy Italian eatery opened in 2002 and became "the neighborhood place" for Logan Square. After 21 years of hard work and dedication, Eileen Gregg-García and her husband, head Chef José "Chepe" García, succeeded in transforming their lifelong dream into a reality.
Eileen Gregg-García
After college, Eileen started her journey, leaving Chicago and moving to New York City. There, she helped open the Four Seasons Hotel New York, at the time, the flagship Four Seasons hotel. Working for an amazing five star, five diamond hotel company was a real eye opener for her. Her training in excellent, guest centered service had an indelible effect on her.  It was there that she uncovered the puzzle piece to achieving a successful business–one that genuinely values its customers and attends to their needs. This knowledge would become the hallmark of how guests are treated at Buona Terra and Hearth And Crust.
After spending some time in New York City, her sister convinced her to come back home to Chicago and work with her at Tuscany on Taylor Street. Little did she know that this would be the beginning of a completely new journey for her! Here, she met the man who would become her husband,Chepe. From the first date, there was an instant and powerful connection between them and in 1996 they decided to make it official and tie the knot.
José "Chepe" García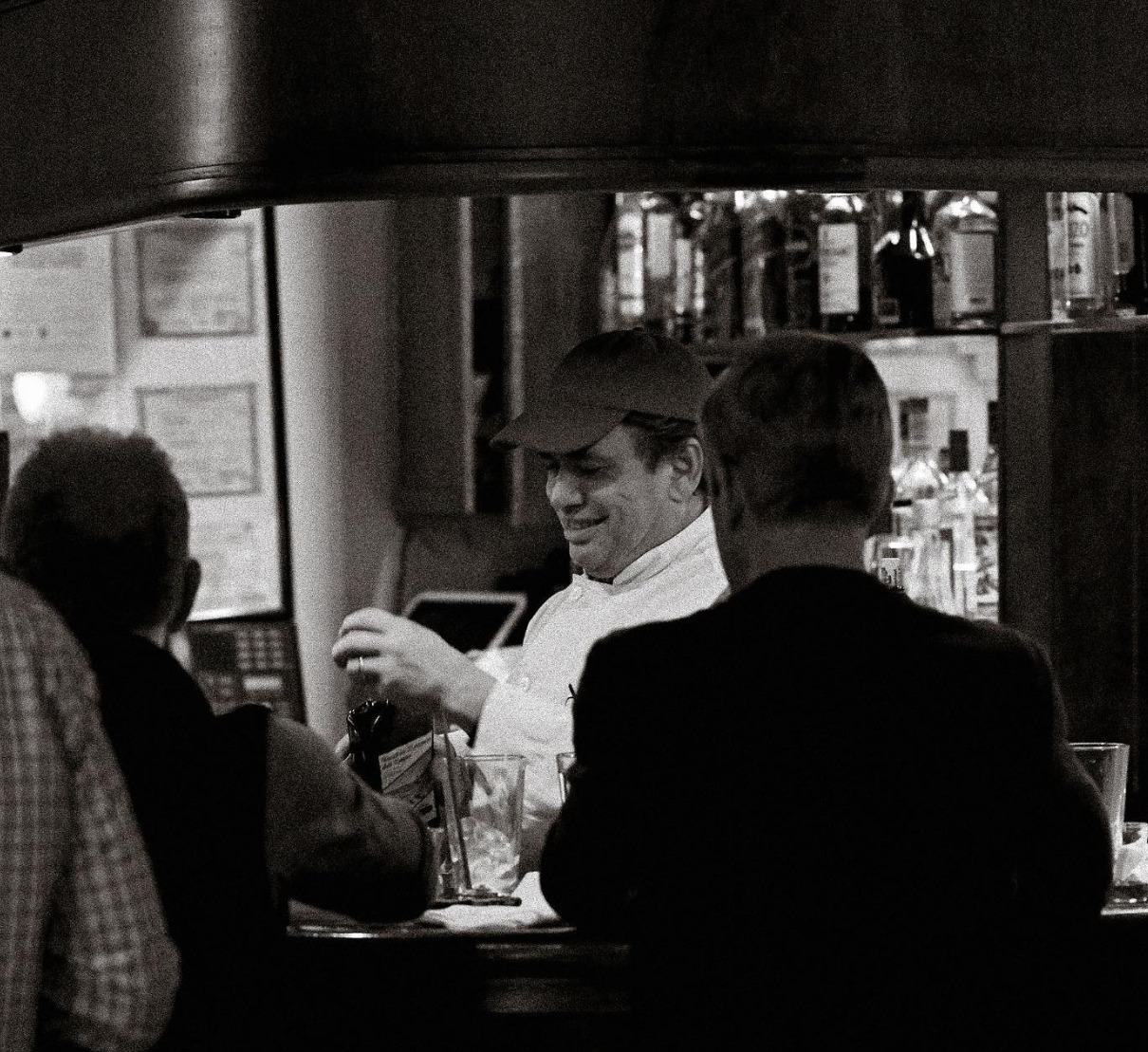 Chepe's story begins in the highlands of Jalisco, Mexico, where he grew up on his parent's dairy farm. His years of working on the family farm helped him develop a keen eye for how to manage a business with many moving parts. In addition to the dairy farm, his family ran a small butcher shop in his town. At the ripe age of 16 years old, he emigrated to the United States, with a dream in hand and plans to have a business of his own someday. 
After leaving home and moving to Chicago he was soon working in some of Chicago's finest restaurants both in the kitchen and up front.  He has worked with world-class chefs, honing his skills over the forty-plus years he has been in the business. He has proudly walked in his father's and grandfather's footsteps, who are both his role models when it comes to having an entrepreneurial mind 
Buona Terra CHICAGO
In 2002, Logan Square was in need of better restaurants. Eating out with a bottle of wine without having to leave the area? Not an option! Chepe and Eileen chose to take a risk with their savings and open Buona Terra – praying and hoping for its success but never knowing what could come of this leap of faith.
For 21 remarkable years, Buona Terra was a place of dreams where families, friends and neighbors could come together. There were lifelong friendships formed here, as well as relationships that blossomed into marriages – all within an environment filled with warmth and community spirit. The last few weeks that Buona Terra was open at its Logan Square address were filled with so many different emotions but also with a sense of wanting to start with a new chapter in life, ready for something unexpected and exciting and we can't wait to see what the future brings!
The Story Behind Hearth & Crust 
If you lived in Irving Park, chances are you've heard of Hearth & Crust. But have you ever wondered about the story behind this delicious, Italian, sister restaurant to BT? 
Following the successful launch of Buona Terra, Chepe and Eileen quickly noticed that most of their customers were from the local area and many became devoted regulars every week. The community responded positively to having a welcoming, family-friendly gathering place in their neighborhood; it soon evolved into an ideal setting for special occasions.
Soon after they decided to relocate as a family to Irving Park, a place close to Eileen's heart since childhood. Living there became clear that something was missing – the lack of an ideal spot for families to visit on Friday nights for wonderful dinners with wine and delicious pasta. However, this time around they were in a better situation than before; not only did they have their own establishment but also the powerful "secret sauce" required for success!
When Hearth And Crust first opened, the owners had two main goals – to create a restaurant once again, that would be the "neighborhood spot" for dining and this time they could offer pizza too. They were able to purchase a remarkably affordable property in Irving Park, but it was in need of plenty of renovations and repairs – something that required both money and time. Nevertheless, every penny was well spent as the end result speaks for itself!
On July 5th, 2017, after operating Buona Terra for 13 years, Hearth & Crust was born – the very embodiment of two individuals' aspirations for something that they could truly call theirs.
Buona Terra's New Chapter at Irving Park! 
After 21 years of operating Buona Terra at our Logan Square address, the time to move forward has arrived. The new address? Hearth & Crust's spot, at 3608 W. Irving Park Road! While it is a bittersweet goodbye to Buona Terra's original location and to Hearth & Crust as well, it's also the start of something totally new, a new chapter in Chepe and Eileen's life. 
The new menu will continue to offer all of the local's favorites, as well as some really fantastic new menu items from the Buona Terra and Hearth & Crust menus. Eileen and Chepe are grateful for all the loyal customers they've had over the years at Buona Terra over in Logan Square, customers that have become like family, customers that come in every week, others that have had first dates there, and many others that would celebrate every anniversary there. Certainly, they would be nowhere without the support and love of their community and can't wait for you to see the new and improved Buona Terra at Irving Park. 
Visit Buona Terra Today!
Buona Terra and Hearth & Crust have come together to create something spectacular. The newly renovated restaurant provides a unique experience that can't be found anywhere else. It's been a pleasure to introduce our new look and tell the story behind both names. Together, we want to thank everyone who has visited us in the past, as well as invite new customers to visit soon! Our head chef Chepe is already preparing something special for those who decide to drop by, so why not join us for dinner today? With a modern atmosphere, delicious food, and attentive staff—there's no better place than Buona Terra!